July 2019
First Map: How James Cook charted Aotearoa New Zealand
Tessa Duder's latest book is a handsomely produced narrative of how Lieutenant James Cook created the first chart of Aotearoa New Zealand. The beautiful illustrations are by the acclaimed Dunedin artist David Elliot.
The hardback large format book has been published by HarperCollins, timed to coincide with Tuia - Encounters 250, the commemorations of Cook's arrival in New Zealand in October 1769 being held nationwide from October to December.
Since it was published in a 1773 book on Pacific exploration and by the Admiralty in 1816, James Cook's chart of New Zealand has long been regarded as one of the most extraordinary achievements in the history of cartography. First Map: How James Cook Charted Aotearoa New Zealand tells the human story behind the creation of the famous chart, following the progress of Cook's six-month circumnavigation of New Zealand over the summer of 1769-70 and piecing the map together as the narrative on H.M.B. Endeavour unfolds.
It is a story of courage and dogged perseverance, demonstrating Cook's extraordinary skills as both cartographer and seafarer and how his encounters with Mãori hapu (disatrous at first, but subsequently ranging from mutually respectful to friendly) taught him much about Mãori life and their rich culture.
July 2019
First Map: how James Cook charted Aotearoa New Zealand
'From about the 1960s, many Kiwi homes and baches had a print of James Cook's iconic New Zealand chart hanging on a wall,' says Tessa Duder. 'Older Kiwis grew up with this image. I felt that a suitable contribution to the Tuia Encounters 250 events would be to re-introduce adult and younger readers to Cook's great achievement. He literally put the three major islands of New Zealand on the world's maps.'
Sailing across the Tasman on the tall ship Spirit of New Zealand in 2013 gave Tessa a taste of the storms, huge swells and calms experienced by the Endeavour sometimes hundreds of miles from the land. (Go to Resources to see her account of this passage.)
First Map is suitable for family reading, with sections of the chart matching the narrative of Endeavour's six-month passage around the coasts of the three major islands. It was a hazardous journey: Cook knew only the coastline from Hokitika to Cape Reinga drawn by Abel Tasman in 1642, and on seven separate occasions he was exceptionally lucky not to lose the ship, by grounding or being swept onto lee shores. There were also several occasions when Mãori hostility both on the water and on shore could have ended in tragedy for the English visitors; the deaths of maybe eight or ten Maori resulted from mutual misunderstanding and the visitors' superior musket fire power used in self-defence.
The illustrations feature David Elliot's distinctive watercolour style, plus the famous map of Pacific islands drawn by the Tahitian priest Tupaia, who was on board for the circumnavigation and contributed invaluable help to the Europeans as interpreter and diplomat.
Tessa Duder is visiting major New Zealand cities during September, October and November to talk about James Cook, explorer, surveyor and map-maker without peer.
July 2019
The Alex Quartet back in print
General reaction to the news that the Alex books are coming back into print has been very gratifying, says Tessa Duder. 'There seems to be agreement among teachers, librarians and parents that some of the best novels from the 1970s onwards, when children's literature in this country came of age, should be available to new generations of children. These would include writers like Margaret Mahy, Sherryl Jordan, Jack Lasenby, Joanna Orwin, William Taylor and the early works of Kate De Goldi and Mandy Hagar.'
The Alex books cover her life from early in 1959, vying for selection for the Rome Olympics, her struggles during the winter of 1960, her experiences in Rome in August 1960 and the six months following, when she must make major decisions about her life. She has been described as one of the most memorable characters in all New Zealand literature.
The omnibus edition published by One Tree House will be available from September 2019.
July 2019
2016 winner of Storylines Tessa Duder Award: Tina Shaw
Tina Shaw has written five novels for adults, plus many short stories published in anthologies, literary journals and magazines. Her work for children includes the award-winning About Griffen's Heart and a number of picture books.
She has held the Buddle-Finlay Sargeson Fellowship, the Creative New Zealand Berlin Writers' Residency and the University of Waikato Writers' Residency.
Open to all New Zealanders who meet the eligibility criteria, the Storylines Tessa Duder Award for a YA manuscript will be offered again in 2020, with a deadline of 31 October 2019. For more details, the entry forms and guidelines, please go to www.storylines.org.nz under Awards.
April 2016
Meet the 2016 winner of Storylines
Tessa Duder Award
Gareth Ward and his teacher wife came to New Zealand from UK nine years ago and run Wardini Bookshop in Havelock North.

He is also well-known in the Hawkes Bay area as a magician, much in demand for schools and community events for shows which combine a long-time love of magic with storytelling. The Sin Chronicles: New Blood, his first attempt at a full length novel, is a rollicking "steampunk" narrative set in Victorian England, and intended as the first in a trilogy.

'Storylines is very grateful to Walker Books for sponsoring this award for YA writers,' says Tessa, 'particularly after 2015 when we could not find a winner. Our first two winners Hugh Green (Reach) and R.L. Steadman (A Necklace of Souls) had gone on to great success at the New Zealand Post awards, so this was a real disappointment for the judging panel. But now we have the launch of Gareth's novel in 2017 to look forward to. His is a distinctively new voice among Kiwi YA fiction writers.'

Open to all New Zealanders who meet the eligibility criteria, the award will be offered again in 2018, with a deadline of 31 October 2017. For more details, the entry forms and guidelines, please go to www.storylines.org.nz under Awards.
August 2015
Sarah Mathew: Explorer, Journalist and Auckland's 'First Lady'
Sarah Mathew tells the story of a young Londoner who sailed for Australia in 1831 to join her surveyor cousin Felton Mathew. Married in Sydney, they spent nine years in New South Wales, until Felton accompanied Governor William Hobson to New Zealand in January 1840 to proclaim a new British colony. Sarah followed in March 1840.

'We know a good deal about day-to day settler life in the Bay of Islands at that period, and especially how, in the months following the signing of the Treaty of Waitangi, Auckland came to be chosen as the first capital,' says Tessa. 'That is largely because Sarah wrote wonderful journals and letters which miraculously survived and were returned to New Zealand in 1938.

'The 1840 Journal covers her epic winter journey with Felton, in a 46ft cutter from the Bay of Islands down to the Firth of Thames, to find a suitable site for a capital. Covering hundreds of miles by boat and on foot, they were among the very first Europeans to explore the harbours and rivers of Whangarei, Mahurangi, Waitemata, Tamaki and the Firth of Thames.

'Her accounts of Auckland's real birthday, 18 September 1840, and the first few months of settlement, are especially wonderful, so acutely observed. Sarah was the only European woman ashore for the flag-raising ceremony, an historic moment memorably captured by the painting used for the book's cover.'

Sarah's story tells of her delight in the landscape, her social activities and disappointments during the six years she made Auckland her home. Sadly, she was never to have children. From both her own and Felton's extensive writings, it is clear that couple was deeply in love and committed to building a life in New Zealand, but his career as a surveyor and his health faltered. Finally, in 1847, with Felton ill and both disillusioned, they decided to return to England.

'Sarah's subsequent story is poignant, one of hardship and loneliness, but luckily for us, she had written those wonderful accounts of her New Zealand years and her long voyages under sail. All in all, as a steadfast and clearly stoic wife, she made three round trips from UK to Auckland and back, meaning three trips around Cape Horn. For most pioneers, once was enough!'

Felton Mathew is remembered in Auckland mostly because of a street name in the Glen Innes area. 'I am hoping that with the publication of this book, the name of Sarah Louisa Mathew will be restored to its rightful place in our pioneer narrative,' says Tessa.

'And drawing on my recent experience crossing the Tasman Sea under sail, some years in my thirties as an expatriate wife, along with a long-time interest in early Auckland, I was quite well qualified to tell Sarah's story, with sympathy and understanding, both of her achievements and struggles, and what they cost her.'

The book will be available in bookshops from mid-September.
November 2014
Out on the Water – Twelve Tales of the Sea
For her first children's fiction in ten years, Out on the Water – Twelve Tales of the Sea, Tessa Duder has chosen a nautical theme: a brand-new collection of sea stories, illustrated by Bruce Potter and published by Peter Dowling of Libro International (an imprint of Oratia Press).

'I've done lots of different sorts of sailing over the years,' says Tessa, 'so there are stories about children learning the ropes of dinghy sailing, or kayaking up rivers, or sailing as crew in their family boats.

Two have historical themes: the longest story explores what the experience of crossing the Tasman in 1882 in a tall ship might be like for a shy 12-year-old boy, and another shares with another boy the challenges of transporting 62 nearly wild cattle in a scow from Great Barrier Island to Auckland in the 1890s.

'I have always been fascinated by the rich language of the sea, so the book includes useful glossary of sea words and expressions, many of which have passed into general use.'

Each of the twelve stories has a full-page illustration specially created by leading New Zealand illustrator Bruce Potter, well-known for his many picture books (The Whale Rider) and as an entertaining visitor to schools.

The book is being promoted by Yachting New Zealand and will be on sale nationwide from November.
November 2014
A Treasury of New Zealand Poems for Children, edited by Paula Green, illustrated by Jenny Cooper
Noted Auckland poet Paula Green has edited a marvellous new Treasury for Random House New Zealand, A Treasury of New Zealand Poems for Children – and it includes Tessa Duder's narrative verse 'The Cat who's Known as Flea', about a cat who feels unwanted by his family.

'I was truly delighted to have this piece accepted for this new Treasury,' says Tessa, 'as Paula is a noted poet and reviewer, and you only have to look at the extensive list of contributors to see how widely she cast her net: poems by James K. Baxter, Patricia Grace, Joy Cowley, Margaret Mahy, Gavin Bishop, as well as a host of less-well known and young writers.

'And in Jenny Cooper, Paula found a truly splendid collaborator. It's a beautiful large format hardback publication, with the lovely little touch of three sewn-in bookmarkers for readers to note their favourites. A perfect gift, but also for classroom enjoyment, and I have to say, extraordinary value at $37.99.'

Congratulations to Paula, Jenny and Random House for an important book which should be in every New Zealand family!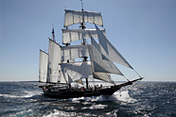 Spirit of New Zealand leaves Sydney in October 2013 bound for Opua in the Bay of Islands.
November 2013
Across the Tasman in tall ship Spirit of New Zealand
In October 2013 Tessa Duder sailed across the Tasman Sea in the tall ship Spirit of New Zealand, taking part in the very first Tall Ships Race from Sydney to Opua.

'This was an amazing experience,' recalls Tessa. 'I've long been a Trustee of the Spirit of Adventure Trust, but on board I was grandma to 39 young people and a hand-picked Spirit crew of 12.

'We ran straight into rough weather – 40 knot winds and 5 metre swells – so I was pretty unhappy and perfectly useless for the first four days. After that, it was all pure pleasure: sighting the Poor Knights islands, ghosting around North Cape under a full moon, dropping anchor after nearly eight days in the historic bay off Russell.

'We took several days to sail down the Northland coast, enjoying activities with ships from other nations (Australia, UK, Holland etc) with the climax a grand entry into the Waitemata harbour at Labour weekend.

'The 52 crew aboard Spirit of New Zealand were delighted to take third in the race (line honours and on handicap, with several of the ships withdrawing with gear failure), and even more thrilled to be voted the friendliest ship by the crews of the other six ships in the race.'

For Tessa's full account of her amazing voyage, go to Resource pages.
June 2012
The Story of Sir Peter Blake
The Story of Sir Peter Blake by Tessa Duder – this new biography of New Zealand's most famous long-distance sailor is being published in June by Libro International, an imprint of Oratia Media.

The book has been specially written for younger readers at the request of the Sir Peter Blake Trust, set up in 2002 to honour his name and continue his environmental work.
'The Trust was keen to have a new resource for schools, libraries and families,' says Tessa, 'to inspire a new generation of children with Peter Blake's extraordinary life as a yachtsman, an inspirational leader through five Whitbread Round-the-World races and two America's Cup regattas, and in his last few years, as a tireless worker to raise global awareness of the environment.

'Much has been written about his achievements and tragic death on the Amazon River, including Alan Sefton's full-length biography, Pippa Blake's memoir and Peter's own books.

'However, I'd like to think that mine is a particularly useful and accessible summary of his life which will appeal to adults as well as children from about nine or ten on.

'With the help of the Trust and his family, notably his widow Lady Pippa Blake and younger brother Tony Blake, we've been able to include some new pictures as well as familiar ones taken at key moments in his life.

'It's a truly inspiring story of a lanky kid who loved to sail with his family around the Waitemata Harbour and Hauraki Gulf to hard-won success in the world's greatest yachting events, both in round-the-buoys contests and epic races against time and other contestants through the world's greatest oceans.'

The book also includes short sections designed to help young readers with background information to put Sir Peter's aspirations and achievements in context – for example, potted histories of long-distance yachting, the Whitbread and America's Cup events and the art of navigation, as well as brief descriptions of differing types of the yachts and rigs.

Among those quoted are Lady Pippa, Tony Blake and famous sailors such as Robin Knox-Johnston, Grant Dalton, Russell Crowe and Mark Orams.

The book, of 144 pages, many black and white pix and 8 pages of colour pix, will be available nationwide from late June at $21.99